CUISINE OF MANY FLAVOURS
DISHES CREATED WITH PASSION
The hotel restaurants are the quintessence of good taste and aroma. A culinary journey through specialities, including regional dishes, whets the appetite of guests and creates a good mood. The craftsmanship of the chef and his extraordinary passion for cooking makes each dish stand out with its richness of flavour. The hotel has a cosy and original à la carte restaurant, as well as spacious banquet and buffet rooms. This allows for intimate meetings, lavish banquets and tasteful receptions.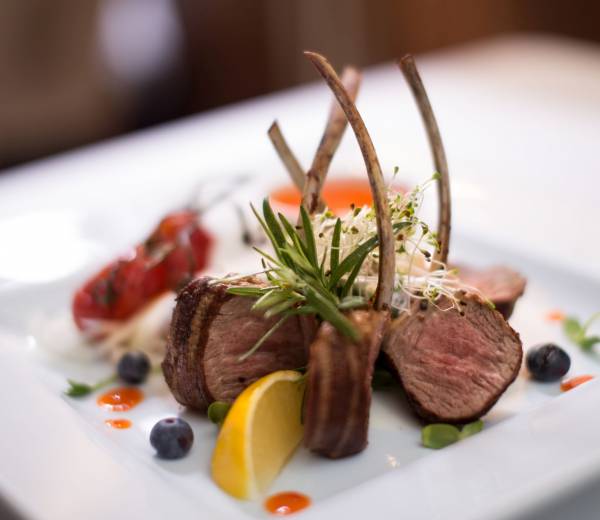 A`la carte restaurant
Craftsmanship of creation
The à la carte restaurant is the hotel's showpiece. Combined with the glazed Winter Garden, it gives a sense of harmonious connection with nature. The very heart of the restaurant is its cuisine inspired by the region and the hotel's brewery. The menu is based on the chef's original recipes. The surprising, original and artistic arrangement of the dishes will satisfy the most demanding gourmets. The selection is enriched by a wide range of beer dedicated to craft beer lovers. There is a children's playground in the immediate vicinity of the restaurant.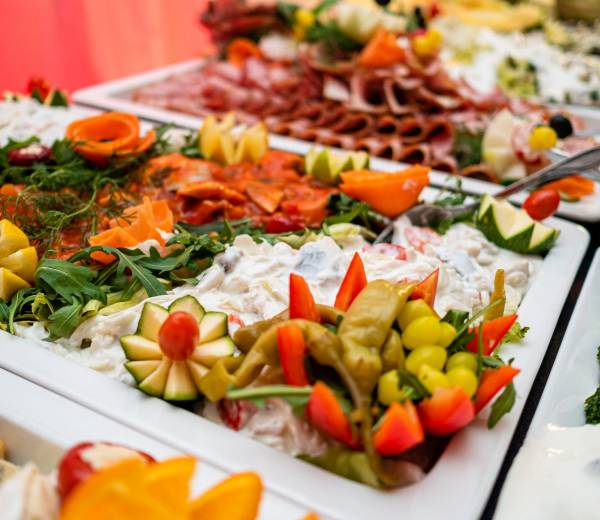 CONGRESS RESTAURANT
A space of many possibilities
The spacious restaurant room, with access to daylight and the possibility of blackout, is the perfect space for organising: refined balls, elegant banquets, exhibition fairs, special events or corporate events. The restaurant has been designed for events up to 500 people and has a modern lighting system, allowing the room to be given the colour scheme of your choice. The interior design was kept in the style of classic elegance. The stylish restaurant also serves, buffet style, breakfast and dinner.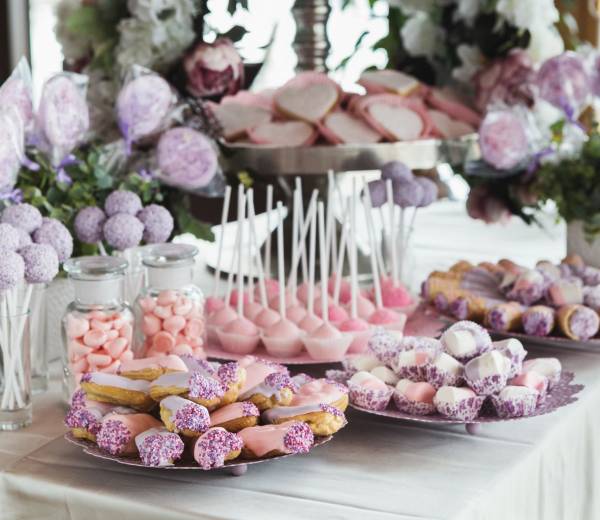 BANQUET HALL
Your dream party
The banquet hall, decorated in soft and warm colours, is the ideal place to host all kinds of special events and smaller corporate events. The elegant interior exudes peace and harmony. The room can accommodate up to 100 people while maintaining a sense of comfort and space. It can be extended to include the adjacent dance hall.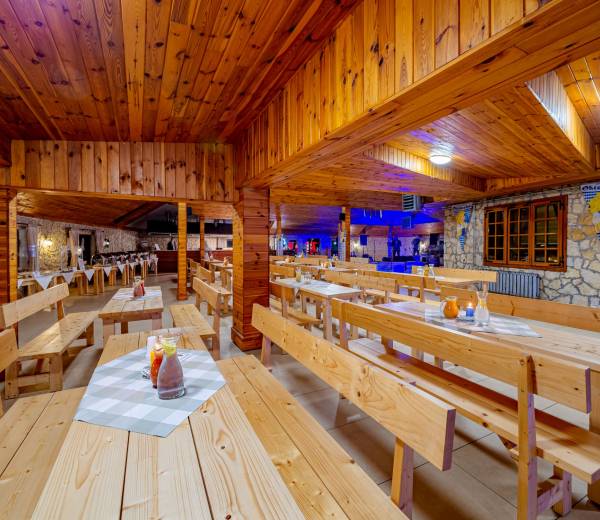 BBQ HUT
Feasts with a twist
The charm of the place is created by the cosy, spacious interior, arranged in a Jurassic climate. The space can accommodate up to 450 guests, although it is also perfect for smaller or even intimate events. The old-Polish cuisine and the convivial character of the hut, rich in folklore elements, attracts fans of climatic interiors with good taste. The site is characterised by stone walls, wooden benches and a barbecue. The BBQ Hut periodically organises feasting events. It is also an ideal venue for team-building programmes, themed evening events or atmospheric evenings. The complex is heated all year round. Its location on green hotel landscapes adds to its charm.